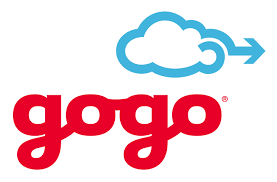 CHICAGO, Sept. 30, 2015 /PRNewswire/ — Gogo (NASDAQ: GOGO), the global leader in providing broadband connectivity solutions and wireless in-flight entertainment to the aviation industry, is partnering with Ultramain Systems, a developer of airline operational software, to connect its industry leading aircraft maintenance applications.
This partnership between Gogo and Ultramain Systems highlights the value of the connected aircraft.  The robust connectivity services provided by Gogo will enable Ultramain's advanced applications to be connected in real-time, which will give airline personnel the ability to assess aircraft maintenance issues as soon as they are detected.
"Aircraft maintenance reporting functions are traditionally accomplished using paper log books and analyzed by ground crews between take-offs and landings," said Andrew Kemmetmueller, Gogo's vice president of product for connected aircraft services.  "Ultramain's applications modernize this manual process into a digital one by building these applications into pilots' Electronic Flight Bags, maintenance technicians' mobile devices and airlines' back-office systems."
Ultramain Systems has developed many notable aircraft maintenance applications.  Applications that can now be connected using Gogo broadband connectivity include: efbTechLogs, which allow flight crews to transmit accurate data about problems on the aircraft; eReporting, an integrated flight crew reporting software that replaces paper Air Safety Reports; and eCabin, which provides passenger information such as special needs for passengers.
"Ultimately, this partnership can help improve airline efficiencies and reduce maintenance related delays and cancellations, creating a better passenger experience," added Kemmetmueller.
To better understand Gogo's vision for the connected aircraft, a copy of Gogo's whitepaper titled, "Building the Case for the Connected Aircraft," can be found here.
About Gogo
Gogo is a leading global aero-communications service provider that offers in-flight Internet, entertainment, text messaging, voice, connected aircraft services and a host of other communications-related services to the commercial and business aviation markets. Gogo has partnerships with 11 major commercial airlines and is now installed on nearly 2,400 commercial aircraft. More than 6,800 business aircraft are also flying with its solutions, including the world's largest fractional ownership fleets. Gogo also is a factory option at every major business aircraft manufacturer.
Gogo has more than 1,000 employees and is headquartered in Chicago, IL, with additional facilities in Broomfield, CO and various locations overseas. Connect with us at www.gogoair.com and business.gogoair.com.
| | |
| --- | --- |
| Media Relations Contact: | Investor Relations Contact: |
| Steve Nolan | Varvara Alva |
| 312-517-6074 | 312-517-6460 |
| | |