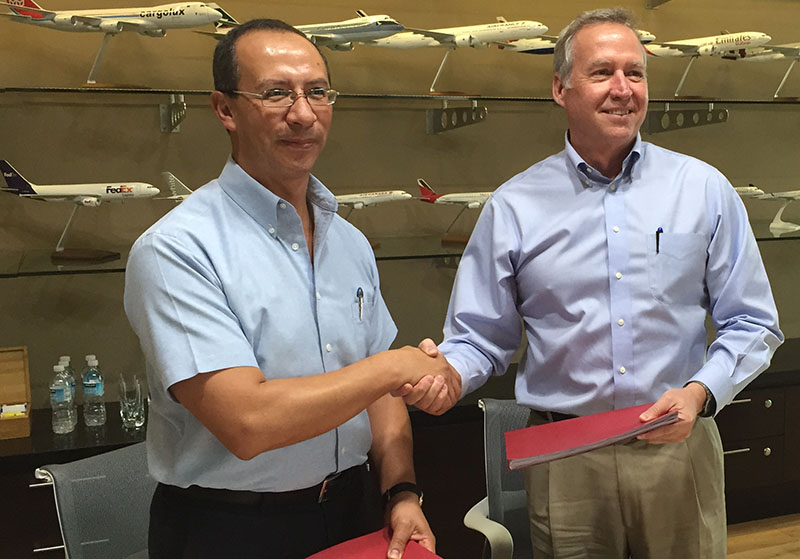 ALBUQUERQUE, NM, USA — February 5, 2015 — Ultramain Systems, Inc. announced today the signing of Mexico's leading aircraft services company Aviation Integrated Services Group (AISG) for ULTRAMAIN® Mobile MRO™ software. AISG will operate ULTRAMAIN Mobile Mechanic™ and Mobile Inventory™ in addition to ULTRAMAIN materials, planning, and optimization software to improve service delivery to their 60 plus airline customers operating at 22 airports in Mexico.
"We are excited to add AISG to our growing family of industry leading aviation customers," said Ultramain President Mark McCausland. "They are a world class provider of aircraft line maintenance with a vision of simplified operations enabled by our paperless mobile products," McCausland added.
AISG plans to use ULTRAMAIN to manage their core maintenance operations including training and certification management, labor schedule optimization, line maintenance planning, timekeeping, tooling and inventory management, quality assurance, and built in reporting and analytical tools. AISG mechanics will use ULTRAMAIN Mobile Mechanic to review work assignments, flight status, certification status, as well as performing critical company record keeping activities.
"It is clear to us that Ultramain Systems has industry leading mobility software that addresses our paperless business needs," said AISG CEO Bogart Balmori. "Their software will bring all our operations into a single software platform and reduce the paperwork burden on our technicians and management. We also believe that the status and monitoring tools provided will increase our efficiency and help us deliver a better product to our customers," Balmori added.