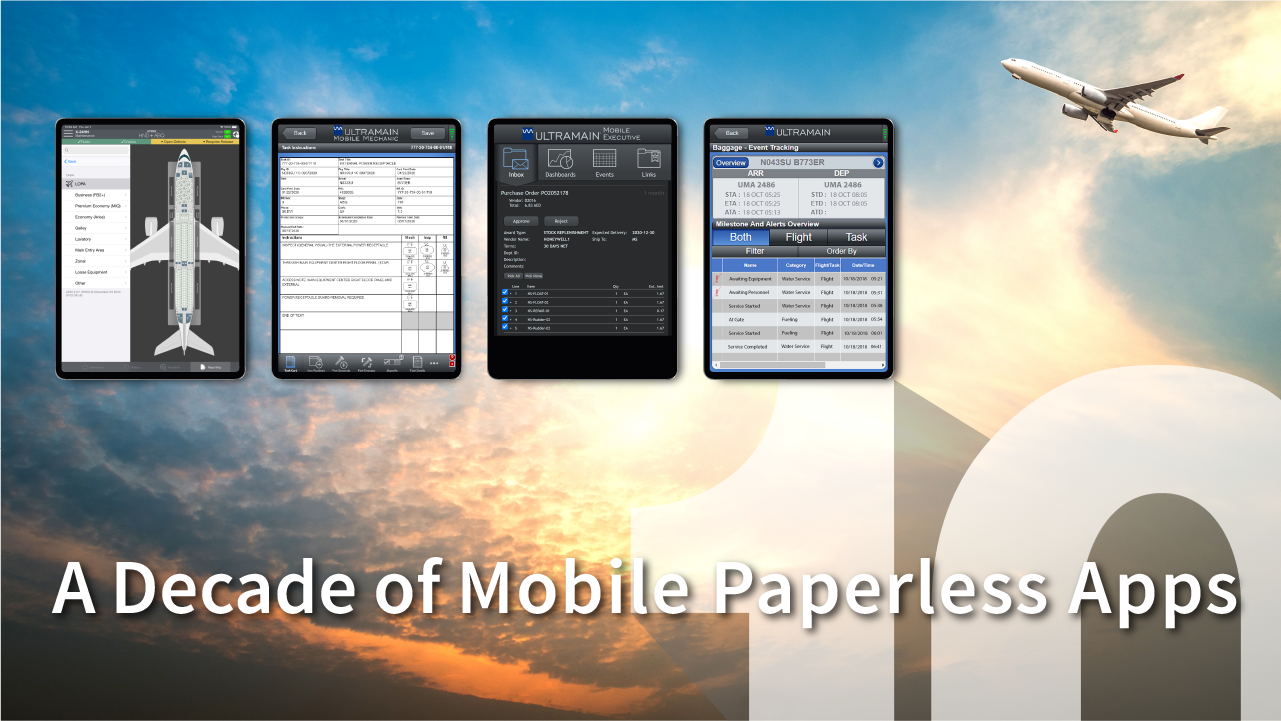 Albuquerque, NM, USA – July 20, 2021 – Ultramain Systems, a leading provider of aviation M&E, MRO, CAMO and Electronic Logbook (ELB) software, is celebrating a decade of developing and implementing SIMPLE MOBILE PAPERLESS maintenance mobile apps. Ultramain mobile applications are an evolution of extensive prior experience in providing paperless capabilities using kiosks. Today mobile apps are considered essential and are being implemented by Ultramain at airlines and third-party MROs around the world. They are most commonly adopted by customers that are looking to improve productivity, reduce operational costs, and reduce the overhead associated with paper-based operations.  
"Since the inception of our first mobile application, we've been working on enhancements which meet and exceed airline and MRO industry demand. Today, Ultramain Mobile Apps, including Mobile Mechanic™, Mobile Inventory™, Mobile Executive™, GATe™ (Ground Activity Tracker), and ULTRAMAIN ELB™ are mature, proven, and reliable," said Mark McCausland, President of Ultramain Systems.   
Ultramain mobile software apps help customers simplify the data collection process and fully integrate maintenance (line, base, engine, shop) with materials, labor, documentation, ELB and procurement.   The paperless solutions enable real-time capabilities, including digital tasks cards, and electronic signature, providing mechanics and engineers with the critical data at their fingertips.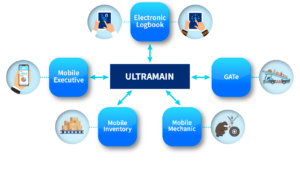 "Our products are easy-to-use, operate on iOS, Windows or Android devices, and can be licensed separately as required to meet specific organizational needs and can integrate with your existing M&E / MRO system. At Ultramain, we have industry knowledge and experience to help our customers to reach maximum cost savings and operational efficiencies. For over 6 years ALL new customer implementations have been paperless," continued McCausland.
If you're looking to fast track your digitization process, contact Ultramain today!
About Ultramain Systems
Ultramain Systems and Ultramain International develop, implement and support ULTRAMAIN® aviation maintenance software for large airlines and MROs worldwide. ULTRAMAIN M&E / MRO software offers comprehensive functionality, innovative features, and has been approved by more aviation regulatory authorities as the paperless maintenance system of record, than any other maintenance/integrated logistics software. ULTRAMAIN is SIMPLE MOBILE PAPERLESS. Ultramain Systems & Ultramain International maintain offices in the USA, Ireland, Hong Kong, India and Singapore. For more information about ULTRAMAIN, please visit www.ultramain.com, send an inquiry to sales@ultramain.com, or call 1.505.828.9000.
###